Clearly explain your projet
• All projects must be coherent with the Christian faith and morality.
• You must be able to answer 5 fundamental questions
(Who? What? How? Where? Why?)
.
• Before trying to convince the public, be yourself convinced that your project will succeed. And it is this confidence that the contributors must feel when reading your description. This part will help you to raise the awareness of people who know you little or not at all. Make your project creditabe by providing maximum information
• The image is the showcase to the project
and is an important point in the success of the collection. As the saying goes "a picture is worth a thousand words." Make it summarize - in the best possible way - the project but above all the spirit of it.
• The catchphrase:
This text is crucial. This is the first thing that people will read. So be clear and forcefully call to support your project! Make sure you tell the nature of your project. Know that 50% of Internet users will only read this text.
Determine the amount of your collection and be transparent! Do not aim too high!
• What will the collection be used for?
• Transparency & coherence. Involving your surroundings and the public is not trivial. Precisely detail every expenditure items that you include in your collection. Also discuss what you can achieve if you exceed your goal. Again, be very clear and precise in the phrasing of this part.
• Detail as much as you can the main expenditure of your project. The clearer you are, the more chances you will get to maximise the fundraising.
• Remember that the rule in donations will always allow you to exceed the pre-determined amount. The average contributions in donations vary widely by project and move between 40 and 150 euros by contributor. The average contributions for loans are higher. You can calculate the average number of contributors that you will mobilize when you set your goal from this average contribution.
So? Does it seem feasable? If so go there, otherwise rethink your budget. Really do take the time to think twice in order to determine your goal: once your project online, you cannot change the amount or duration of your collection! In case of loan application, explain how it will be repaid. Provide all the reasons why your collection should be a successs in order to answer potential interrogations from contributors on your repayment capacity.
Determine the length of your collection
• The time is crucial for the success of the collection. Know that once defined, neither the duration, or the amount will be editable.
• During collection, you will have to bring together a community of individuals around your project so that they support you. Give yourself time to reach your goal, but avoid your collection to last too long, to keep it dynamic!
• This is not because a collection lasts longer that it is more likely to succeed. The sense of urgency allow you to boost your contacts.
• In general, fundraising campaigns record activity peaks at the beginning and at the end of the collection.
CAUTION: It is not possible to run two campaigns at the same time for the same project on two different crowdfunding platforms. Any money collected outside CredoFunding for a project presented on CredoFunding should be communicated to CredoFunding.
• Look after the presentation (titles, spelling, tone, etc.).
• Make a short video presenting the project and/or the team.
• Insert photos (HQ) and comment them.
• Find an identity for the project and strong messages that will convince most people.
• Submit a final image of very good quality (avoiding pixelation). Max size: 2 Mo in JPEG, PNG or GIF format.
Get your relatives committed
• Your goal is to raise the awareness of as many people as possible to make your project successful. Getting one's relatives to commit, it is, first and foremost, creating virality. Be methodical to get there.
• Start by getting your family involved. If your friends do not support you, why would a stranger do? It is by motivating your first circle that the second will be mobilized, and it is the buzz created by the second which will create the third circle.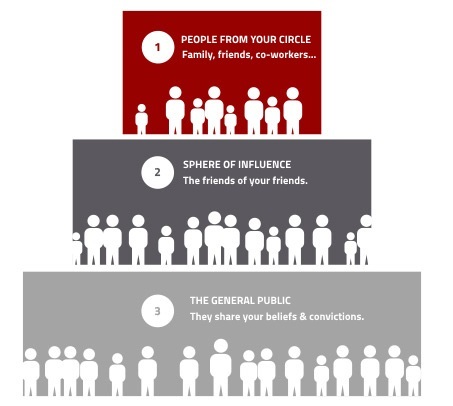 • Your relatives: their support being financial or not, their energy and networks will carry you throughout your collection.
• The first donations from friends and family are essential! A project which quickly has a portion of its funding before the official launch of the campaign has much more chance of success because it is more attractive.
• A stranger will seldom give to a project with less than 20% of its funding.
• A project which quickly raises 50% of its funding target has 9 out of 10 chance of being a success!
Relaying information and involve your network
Post your project on social networks to grow your community and your visibility through CredoFunding widget. Thus, friends of your friends will have knowledge of the project.
• FACEBOOK
Facebook is for most of you social network through which you group your first as well as your second circle of acquaintances. We recommend that you create a page dedicated to your project and make it live in parallel of your space.
• TWITTER
Twitter is a very effective tool to mobilize your second circle, influencers and thus the general audience. Do not believe that a simple tweet will allow you to reach your goal. It is through the regularity of your tweets that you can be effective.
• EMAILS
Emailing remains today the most effective way to mobilize your first circle. Start by writing to your entire community.
• BLOG/WEBSITE
Do you have a blog or website? Has it been read by numerous followers for a certain time? Let them know about your collection: they will help!
• RELATIONSHIP WITH BLOGGERS
Bloggers like the energy of crowdfunding! Contact those who are close to your world so that they present the project to their readers. Do not hesitate to give their counterparties to thank them for their help. Warning: Turn to bloggers when your fundraiser will be well advanced. Success breeds success!
• PRESS RELATIONS
Journalists often tend to talk about the projects once their fundraising campaigns are a success. That being said, a journalist may well fall in love with your project! Warning: as with bloggers, journalists should be contacted when your fundraising campaign is well advanced.
• OFFLINE EVENTS
Please relay your fundraising campaign even outside the web. Gather your whole community for a drink to tell them about your project and your fundraising!
• PHONE
Yes, the good old phone can also be used to do a fundraising campaign! It is even the perfect way to speak directly to each other and about your project with a real personalized message.
• The campaign ends at the end of the allotted time, but your project does not!
• Show that you are more than ever involved in the project (add pictures of the progression
and of your actions of all kinds).
• In case of delay (of project development, in work, in the opening of the structure, etc.), immediately notify
your contributors and clearly justify the new deadlines.
What's included in the pricing - the role of CredoFunding
Access to your personal account and to the website's back office
Support during the creation of your campaign (choices regarding structure, amount, duration, object definition, counterpart, partners, etc.)
Project layout (advice for writing, selecting images, video brief)
The opening of a collection account with the payment institution
The provision of a secured online payment tool
A project page with sharing button directing to social networks
Les actions de community management par CredoFunding sur les réseaux sociaux
The follow up of contributions (raises, supporting documents, treatment of notes, etc.)
The automatic edition of tax receipts
The provision of a contributor data base file, of an interactive map allowing the localisation of contributors and of a statistics' tool for visits
The guarantee and notoriety of CredoFunding