Beschreibung

Version française
Erlon Place in 1919
We organize an International Remembrance & Reconciliation Weekend on June 22, 23 and 24, 2018 in the Centre International de Séjour in Reims.
See REIMS at the very beginning of 1919, just 45 days after the end of WWI, almost completely destroyed : only 16 houses were intact in all these ruins while the population of our city had decreased from 115,000 inhabitants in August 1914 to only 3,000 people, including soldiers, medical personnel and stewardship in November 1918, after receiving over 10,000 German incendiary shells during 4 long years.
There was a new plan = from the American Urbanist FORD, for the reconstruction of the town including new streets and avenues, such as the magnificent Cours Langlet giving a view from the North East on the Cathedral and the streets JJ Rousseau and Voltaire.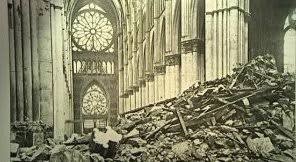 The Reims Cathedral destroyed by the first German incendiary shells on September 19, 1914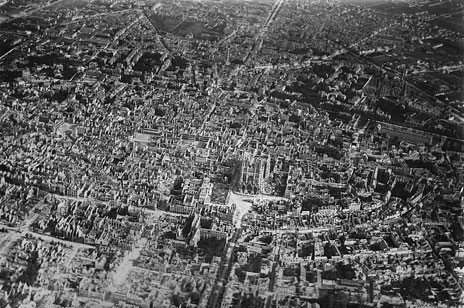 1919
The city center of Reims: :
---
An event of great importance for peace in the world is happening in Reims on July 8, 1962: it is a mass,the MASS OF RECONCILIATION in the Cathedral of Reims, what an extraordinary symbol ! ... with the President of France Charles De Gaulle and the German Chancellor Konrad Adenauer ... PS: You can click on the words in bold to get more details or activate the Internet links !
100 years have already passed but we will never forget ... Because REIMS, whose collective memory of the inhabitants can not forget the horror of the war, wishes to favor peace again and again today:NEVER AGAIN ...
We (cf PS) wish to make it known and organize this international weekend of commemoration / reconciliation with the different nationalities, parties of the WWI conflict of which, first and foremost, our German friends: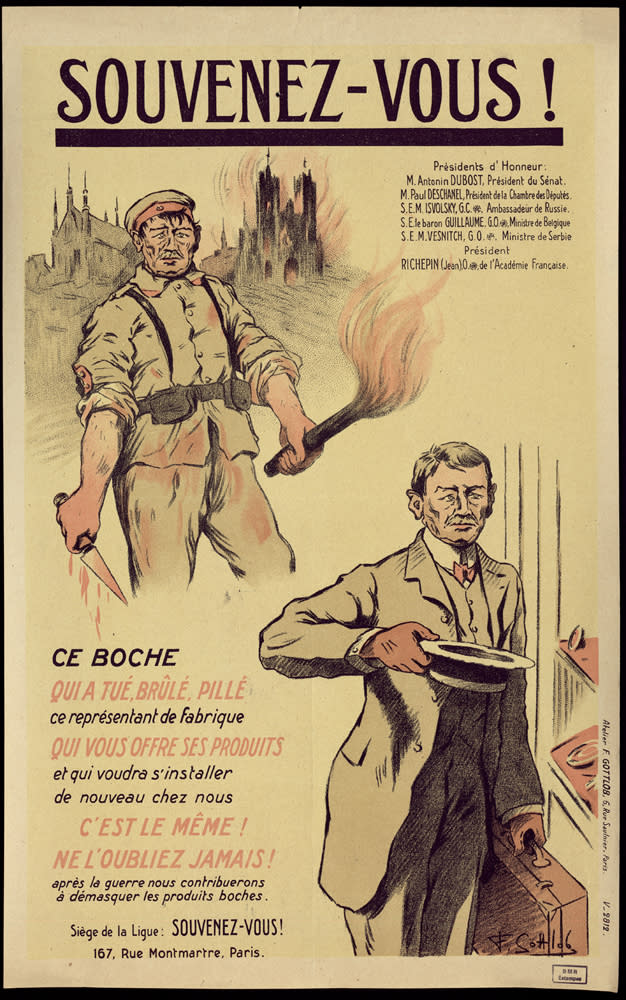 See how they were seen in 1919 ! ...
So, on 22, 23 & 24 June 2018, almost 56 years after this Mass of Reconciliation, pray with us for an international reconciliation between peoples and pray for peace. Durign WWI, many armies of the world, including several colonial empires, clashed around Reims from September 1914 to November 1918.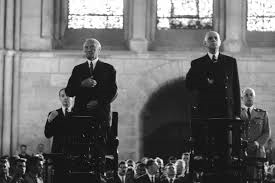 One of your grandparents or your great-grandfathers, if not one of your great-uncles or great-grand-uncles probably took part in this world conflict : this international weekend of memory and reconciliation in Reims, our martyr city, is an opportunity to remember and talk about it around you ...
We will therefore visit throughout this weekend, many places in Reims, witnesses of this war and who have benefited from extraordinary international help for their reconstruction between 1920 and 1935, first of all, the cathedral completely restored (reconsecrated on October 18, 1937 by Cardinal Suhart). For those who will be fit among us, we'll climb the more than 250 steep steps of the towers of the Cathedral to admire the magnificent view of Reims, the gallery of Kings and its new roof, redone in 1925 with concrete beams imitating the wooden beams, we will see the Andrew Carnegie library, the Protestant temple, the town hall and the American hospital.
So, we really need your prayers as well as your financial help; From 1919 until the beginning of the 30s, many came from different countries to help Reims and finance the reconstruction of which we see very beautiful examples of art-deco buildings.
We can present you Reims today, as it is: dynamic, open, welcoming, friendly, bubbly and international.
Be one of our Christian patrons for this multinational weekend of 22, 23 & 24 June 2018 so that we can welcome and invite the descendants of the participating nations to this conflict, whose soldiers are buried in the cemeteries around Reims and further away.
2 copies of this monument were built in remembrance of the participation of the Senegalese and Malian Soldiers during WWI, simultaneously in both Reims and Bamako (Mali), in 1922 :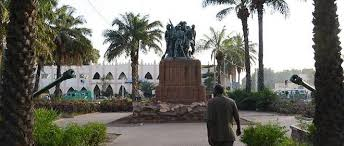 But the one of Reims was destroyed by the Nazis in July 1940 when the Germans occupied Reims again during WWII !...
And the one in Reims has been completely rebuilt, almost identical: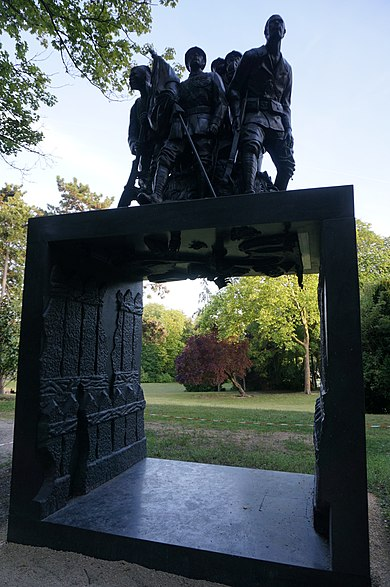 But on a beautiful hollow bronze base in the beautiful Parc de Champagne, former Park Pommery, in 2013 !...
Here is the multilingual website that presents our international reconciliation week-end through which everyone can directly reserve their participation online : Association REIMS 2018 Reconciliation in Champagne
For your general information, go to the website of the tourist office of Reims and / or the city of Reims.
Um den Frieden zu fördern, müssen wir uns immer an den Schrecken des Krieges erinnern !...
Pour promouvoir la paix, il faut toujours se souvenir de l'horreur de la guerre !...
To promote peace, we must always remember the horror of war !...
Для того, чтобы содействовать миру, нужно всегда помнить, ужас войны !...
Para promover la paz, siempre debemos recordar el horror de la guerra !...
Per promuovere la pace, dobbiamo sempre ricordare l'orrore della guerra !...
Om de vrede te bevorderen, moeten we altijd de gruwel van de oorlog onthouden !...
For at fremme fred, må vi altid huske krigsskriget ! ...
ولتعزيز السلام، يجب أن نتذكر دائما رعب الحرب ...
Por promocii pacon, ni ĉiam devas memori la teruron de milito! ...
PS : Know that the designers of this international reconciliation week-end were all born in Reims, Champagne and we were particularly shocked when we were children to see all these military cemeteries around our city.
Verwendung der Mittel
We are organizing this weekend of reconciliation in the spirit of the 2nd letter of Saint Paul to the Corinthians, chapter 5 verses 18, 19 and 20
We hope that anyone who wishes to participate in this multinational reconciliation week-end, in Reims, can do it, 100 years later. We booked 100 beds in the Centre International de Séjour de Reims on 22, 23 and 24 June 2018.
At the time, it was the British and French armies who had paid for the trip of the soldiers coming from their distant empire !!! ...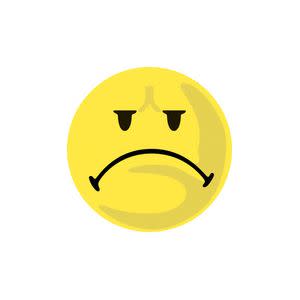 The Indians (the British Indian Army) had sent more than 100,000 men in France and Africans, the Malagasy must therefore be helped to finance all or part of this trip while they will be hosted free of charge in family homes of Reims and they can then continue to be hosted by members of Ephatta or Servas or Couchsurfing after their week-end in Reims ...
So, our association REIMS 2018 Reconciliation in Champagne, is eager to offer the trip to Reims to 2 up to 4 participants, from Mali, Senegal, Ivory Coast or Madagascar or India so that we can all reconcile, in their warm presence representing their ancestors having fought around Reims, with our German friends in Reims.
Their return a few weeks later at home will then allow them to bring words of peace and happiness to their village, thus spreading the word of peace of Christ in a still undeveloped part of the world.
In addition, we have fixed a low rate, accessible to all (and which does not cover all of our fees amounting to 110 € per person), not counting the paid visits (which will remain the choice and responsibility of each participant) only 70 € for early booking, then 80 € per person for the whole weekend, including our insurance RCP & the Saturday night buffet at the Protestant Temple of Reims, (which was by the way also destroyed and rebuilt in 1923 with the financial help of Anglo-Saxon, Scandinavian and Swiss capital...)
Many activities offered are free with carpooling offered by parishioners.
Here is the website of our association REIMS 2018, Reconciliation in Champagne which presents our reconciliation weekend: REIMS 2018.
Thank you in advance for your prayers for the success of this international reconciliation week-end and your financial support.
We also hope that this information about our Martyr City of Reims between 1914 and 1918 will encourage you to discover it.
PS: You can click on the words in bold to get more details or activate the Internet links