The benefits of a lease campaign with CREDOFUNDING
A COMMUNITY OF COMMITTED LENDERS

Who can borrow via CREDOFUNDING ?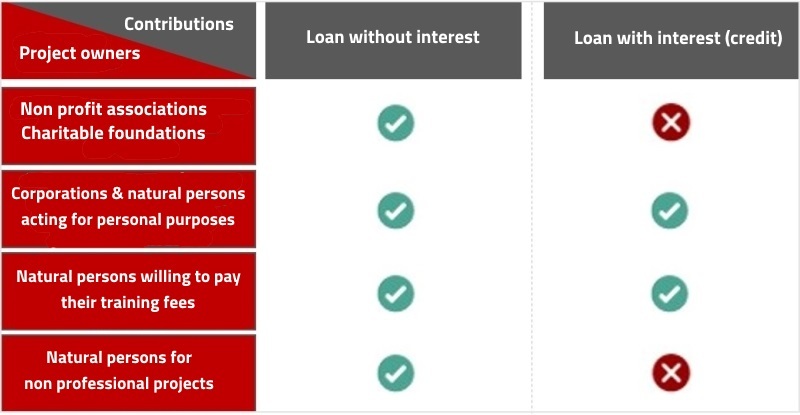 What are the minimum & maximum amounts I may borrow?
You may borrow between €5,000 and €1,000,000.
What is the interest rate I can borrow at?
The interest rate is determined in collaboration with you and our team, following the thorough analysis of your project.
For how long can I borrow?
On a basis of 24 to 48 months maximum (2 to 7 years), a potential deferred refund being included in that duration.
For how long can my campaign last?
Generally, campaigns last between 1 and 3 months so that your communication is well defined and the limited time encourages your contributors not to defer their contribution.
This duration may vary depending on the nature of the project. For more advice on this subject, click on the link.
How can I make my borrowing request?
After having logged in to the website, you simply have to submit your lease project and provide all required information. We provide you with a simulator allowing you to calculte your installments and total cost of borrowing.
What happens if I do not reach 100% of the goal at the end of my campaign?
If the required amount is not reached, be it via Credofunding or other sources of funding, the amounts granted by lenders are reassigned back to them, at no cost for the lenders, and the lease offer lapses.
What happens once I have reached 100% of the determined goal ?
A campaign will be labelled successful if the total raised amount (via Credofunding and via other sources of funding, under reserve of presentation of supporting documents) reaches, on due date, the amount determined at the start of the campaign. Your campaign is then terminated, loans are not available anymore, and the lease offer transmitted to lenders becomes contractually binding. You then have access, in your personal space, to the table of overall amortization of your loan, which allows you to view timelines. You will receive the raised funds in the following days.
If my campaign is successful, how does the reimbursement of process occur?
Reimbursements start the month, term, or semester (depending on each project) following the end of the campaign. The operation is simple: 5 days before payment deadline, your account will be deduced, all at once, of the total amount of reimbursements to be paid. CREDOFUNDING then dispatches this amount between the lenders who trusted you pro rata their loan. They are kept informed of the progress of the project, until it comes to an end.
Can I launch several projects at the same time?
No.
How much does it cost to launch a lease project on CREDOFUNDING? Consult the "Tarification" tab.
How to manage your fundraising campaign in 7 steps? Click on the LINK!
Who can lend money?
Any natural person over 18 with a complete and valid « lender profile ».
Under what conditions?


At what rate can I lend money?
Each project is associated with an interest rate, calculated on the basis of the borrower's financial elements. The interest rate of your loan will thus vary depending on the project.
How to lend money on CREDOFUNDING ?
Simply create an account on CREDOFUNDING.FR, and provide us with the required supporting documents. Once your account is online, you may transfer the desired amount and lend to projects of your choice. For this purpose, we provide you with a simulator allowing you to view the timelines. You will then automatically receive a lease offer, including a table of individualized amortization, created by CREDOFUNDING.
Is there a guarantee on my loans?
No, there is no guarantee on you loan.
CREDOFUNDING rigorously analyses the reimbursement capacity of each project owner, but in no occasion shall we be held responsible for any project owner's default. We thus strongly advise you to diversify your portfolio.
To how many projects am I allowed to lend money?
You may lend money to as many project owners as you wish to.
Am I allowed to cancel my loan?
No.
What happens if I lend money once the project has overpassed 100% of its goal?
Your money is given back to you.
What happens once the project owner reaches 100% of its goal?
The lease offer perceived at the moment of your lease becomes contractually binding. The payment deadines, including capital and interest, will be reimbursed automatically every month through transfer from the project owner's account directly to your bank account.
What happens if the project owner does not reach 100% of its goal?
Your money is given back to you.