Description
ARS : WORLD CHAIN OF PRAYER FOR PRIESTS
This is our world chain of prayer for our priests, who are confined, who start their ministry again, it depends on their country.
This prayer, this prayer chain ends up here, in this Lantern of candles at the Shrine of Ars where the Curé of Ars, patron of all priests of the universe, prays continuously.
Friend of God, friend of the Lord and friend of his brothers priests, this is where he prays, day and night in the Lord's mystery, for our priests, our brothers in the ministry.
May this light, our prayers, may our prayer chain shine, may it become a fire, a fire for our priests, our colleagues.
So that this fire may be shared with our communities and this period of confinement in the Cenacle (last supper) may become a new Pentecost.
This is why we pray together !!!!
P.Patrice Chocholski, Curé - recteur du Sanctuaire d'Ars
---
You can see the candle lantern live by clicking on the picture: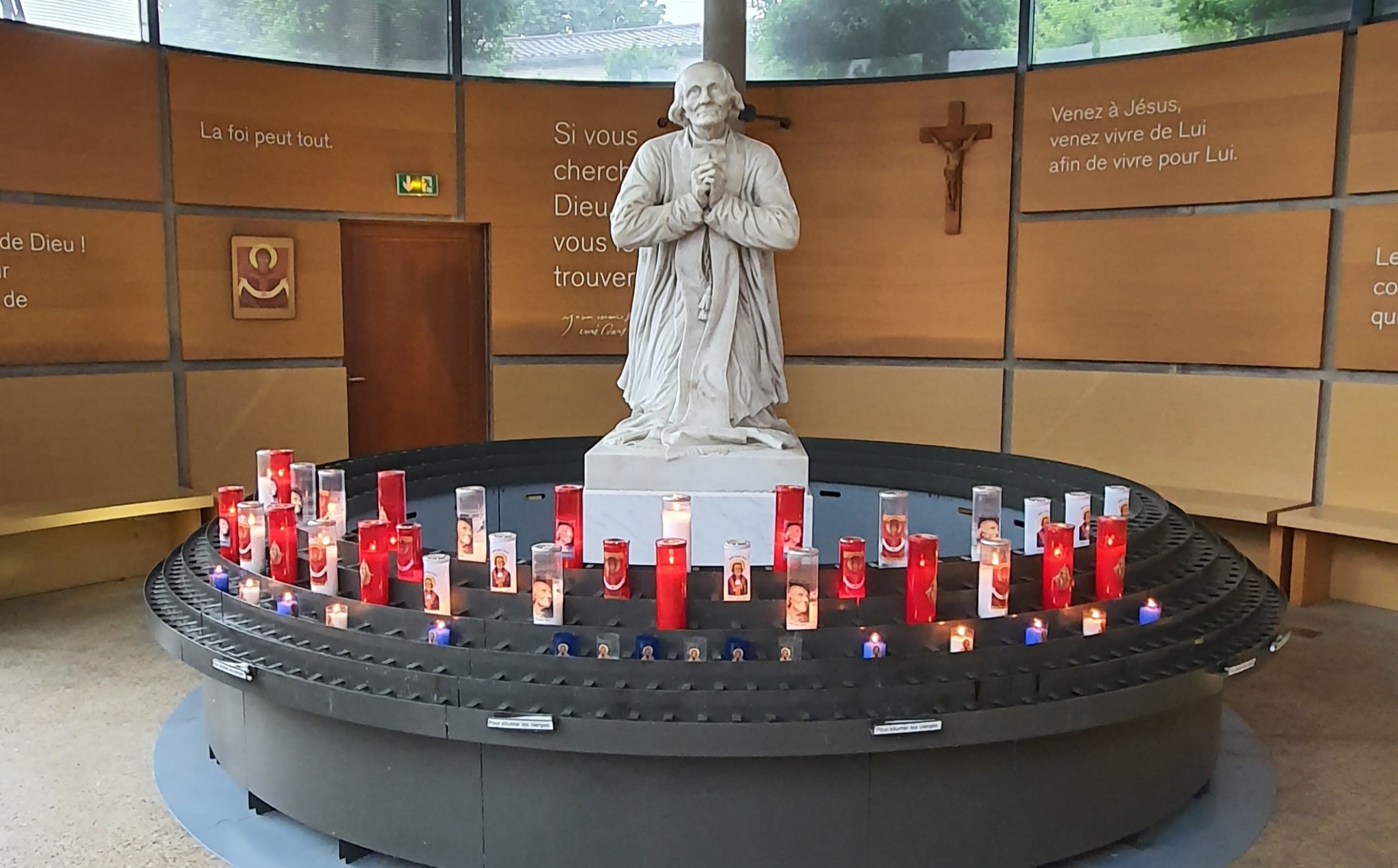 Describe your project goal
Dear friends of the Shrine in France and around the world
If the desire to make the Candle Lantern shine for our priests around the world is great, the prayers that will unite here in Ars will also help us to face this unprecedented situation in the life of the Shrine.
The very difficult times, experienced by all at present, remind us how essential and indispensable fraternity and generosity remain for all. Every day that passes since March 17th puts us in a very difficult financial situation. We don't have a lot of resources and your support is essential to keep the Life of the Shrine.
We remain all mobilized to share with you the daily life of the shrine. All communities are united in prayer with you and through social networks (Mass at 11am every day on the Sanctuary's YouTube channel and furthermore the entire Liturgy of The Hours from Tuesday, May 12). When you light a candle for a priest, you shine the flame for our priests, but you also help the Shrine and religious communities in their mission: to ensure the reception of priests and pilgrims, to maintain the jobs of the employees and the religious communities of the Sacristain brothers and Benedictines, to ensure the expenses of the shrine such as the operating costs (water , electricity, heating, insurance, maintenance)...
The fraternal solidarity of all will help the shrine so that we can welcome you again. Filled with faith and hope, let us all walk together towards Pentecost, towards the days after, towards better days.
Thank you for being there, by our side every day.
May the Lord bless you! And may your Friend, the Parish Priest of Ars, continue his work of intercession according to your intentions!
So, if you wanted to help us, you could light a candle for a priest. All you have to do is validate the order for a candle, indicate your intention to pray, give us the name of your priest (if you wish)
Alain Splettstoesser
Financial Manager of the Shrine