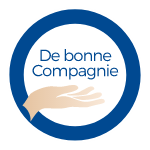 De bonne Compagnie : le réseau de confiance pour nos aînés
De bonne Compagnie : le réseau de confiance pour nos aînés
Participez au lancement de " De bonne Compagnie " promouvant la mise en relation entre des jeunes de confiance et nos aînés.
Select your widget and you can simply copy the html code in the frame below on your website or blog
Copy and paste the html code above in the code of your website or blog. The project will appear in an integrated widget to your website or your blog.